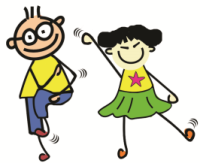 Dynamic Conference Keynotes!
Motivating In-Services and Workshops!
Workshop-Concert Packages!
We've presented workshops all across the US and Canada, as well as in Germany, France, Dominican Republic, Ecuador, Taiwan, Singapore and China.
Choose from the many popular presentations below, or contact us to customize!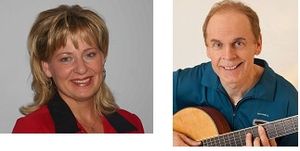 Award-winning educators/performers Liz Jones-Twomey, B.A., B.Ed.,  and RONNO (a.k.a. Ron Hiller, B.A., B.Ed.) are pleased to offer DPA-supporting workshops in your region. Learn fresh, new ways to encourage quality Daily Physical Activity and healthy nutrition, while also strengthening learning through "brain-based," guided-movement fitness routines and active nutrition games set to fun, energetic music.
Workshop 1: "Catch A Brain Wave!" Music and Movement Fun: Useful Tips to Get Kids Fit with "Brain-Based" Strategies
Get kids moving to "brain-based" fitness songs that provide a complete 20-minute workout from warm-up to cool-down. The internationally acclaimed, multi-award-winning "Catch A Brain Wave!" Fitness Fun and its sequel Kids-Move projects offer exciting guided-movement workouts for children ages 4 – 10.
Workshop 2: Play, Move, and Learn: Practical Application of Brain Gym® in the Classroom
Experience a powerful and practical workshop revealing ways to incorporate intentionally designed games, movements, and "Brain Gym" activities into all your classes. Learn how combining music & movement with Brain Gym ® can improve learning, promote children's fitness, and build confidence.
Participants will leave knowing how to do "Catch a Brain Wave!" and other fun, energizing aerobic workouts. They'll also understand how to improve learning in specific subject areas with the use of Brain Gym ® movements. Be prepared to move and experience the contagious enthusiasm of award-winning teacher/presenter, Liz Jones-Twomey.
Workshop 3: SMART MOVES, SMART FOODS Guided Workout plus Nutritional Games
Learn how to get kids moving with energetic music & "brain-based," sequential movements promoting physical fitness, while strengthening learning and encouraging healthy nutritional choices. This highly interactive workshop features motivating workouts and games from the multi-award-winning Catch A Brain Wave Fitness Fun and its sequels: Smart Fitness, Smart Foods & Wiggle Jiggle Fitness Fun.
Workshop 4: Enriching the Quality of Early Child Care through the use of Music and "Brain-Based," Developmental Movement
Intended Audience: Primary teachers, and caregivers of infants, toddlers, and preschoolers.
Developmentally appropriate movement is vital to the wiring of the young brain and in laying the foundation for a healthy life. Experience a lively and informative workshop exploring the use of fun songs and playful activities to support the integration of critical developmental movement patterns, while also promoting emergent/early literacy.

Participants will learn a variety of new, research-based strategies for enhancing children's play, either in large or small-group experiences.
Workshop 5: Making Music & Movement Intentional and Purposeful for the Young Learner
Intended Audience: Elementary teachers, and caregivers of infants, toddlers, and preschoolers.
This interactive presentation will explain how to use Brain Gym® with children of any age. Brain Gym® is a series of 26 easy and enjoyable movements that can be used to enhance an individual's experience with Whole-Brain Learning. Explored will be movements to stimulate sequentially the Brain Stem, Limbic System, and Neo-Cortex.

Also considered will be early reflexes, including specific movements that can be done with children to promote reflex integration. Attendees will be shown how to adapt all the movements for use with children with special needs. Attendees will be actively involved by participating in all the movement demonstrations throughout the workshop.